Sorry for the sad look on this kitten's face.  I recently lost another of my late husband's siblings.  This makes 4 out of 5 brothers and 1 sister.  With the exception of my husband, all three of them died from Huntington's and ALS.   The family has been in a study because of the combination of diseases that seems to  have come from their mother's and grandmother's side of the family.  The latest brother passed away last Friday.  He had been ill for several years and finally his body had enough.  I'm going to the funeral home visitation this afternoon.
I thought it might be appropriate to see what Sarah Ban Breathnach's SIMPLE ABUNDANCE BOOK might have to say on this date.
She suggests creating some type of HOPE CHEST.   Back in the"day" many young women started a hope chest and filled it with linens and other items they wanted to use when they got married.  I never could afford one of those beautiful LANE hope chests.    As Sarah Ban Breathnach reminded me, we young girls all poured over those advertisements in SEVENTEEN magazine.
But Sarah Ban Breathnach says if you are looking for  your authentic self, you can still create a "hope" chest of your own.  She used a big wicker basket filled with projects she wanted to do some day.  As she found lovely things that she wanted to use in her home, she put them inside.  Some people want to redecorate when their lives change due to a divorce or a loss of their partner.  I had our family room repainted and moved furniture around.  I put away most of my husband's collections and brought mine out to display.  I also had the kitchen floor replaced and had some wainscoting put on the walls.    On occasion, when I go to Goodwill, I find some little thing that I like and it is now on display too.
I decided I wanted to try a new hobby this week.  I used to love to color when I was a child.  I just read an article that says that coloring is a very good way to relax.   I am going to look for some of those intricate designs and get some colored pencils to work on them.  Now that I am nearly done with my fourth book manuscript, I can color in the evenings to relax.
You can buy pages to color at an art store or you can just go online and print some off for free.
So, I think you get the idea that Sarah Ban Breathnach was trying to convey.  "Not all of our desires can be immediately gratified.  We've got to learn to wait patiently for our dreams to come true, especially on the path we've chosen.  But while we wait, we need to prepare a place for our hopes and dreams.  Find something to put  your new treasures into and where you can look at them and dream about a brighter and happier future.   And for those of you who have daughters, maybe you will want to start a "hope chest" for them now."
As I mentioned earlier, I have been trying to get my latest manuscript into Createspace.  Editing is so much harder than writing the actual story.  I've submitted the manuscript several times.  When I convert it to a PDF file, sometimes it makes the words move around.  I have had some blank pages which Createspace does not accept.  Hopefully I finally got them all out today.  When it is accepted, I will have to proof it one more time because sometimes it also removes the spaces between the words!   Oh, it gets to be so annoying!  But I like my story and I am looking forward to
having it up for sale very soon on Amazon.com.           
The time in-between this post and my last gone so quickly.  More snow to remove from the driveway, the death of my brother-in-law,  keeping up with some issues with my computer and trying to read.
I think that sometimes you have to be in the right mood to read some books. Apparently I was not in the mood for this novel. It's the story of the Waverley women in a small town. The women have a reputation for having special gifts. One of them is an excellent cook and decides to recreate some candy that her grandmother made years ago. It was rumored to have special abilities ~ rose flavored recalls lost love, lavender promotes happiness and lemon verbena soothes throats and minds. As the reputation of the candy gets more well known, Claire Waverley is caught up in the overwhelming success of her business and can't seem to find her own happiness. She has to abandon her real love of cooking to keep up with the candy orders.
 Sydney Waverley longs for a child with her new husband. Nothing seems to work out. She gets caught up in trying to help others. Her daughter, Bay, is in love with a high school friend and is trying to figure out where he fits into her life...or does he?Then there is the stranger who shows up in the town who appears to be looking for something. It's a light story and probably one most readers would enjoy. I just wasn't one of them.
Apparently there is a book before this one titled GARDEN SPELLS. I've read that it was much better and explained how the Waverley women got to this point. Maybe if I read that book, I will feel differently.
Here's the book description...
Waverley Candy that soothes throats and minds—are singularly effective, the business of selling them is costing her the everyday joys of her family, and her belief in her own precious gifts.
Sydney Waverley, too, is losing her balance. With each passing day she longs more for a baby— a namesake for her wonderful Henry. Yet the longer she tries, the more her desire becomes an unquenchable thirst, stealing the pleasure out of the life she already has.
Sydney's daughter, Bay, has lost her heart to the boy she knows it belongs to…if only he could see it, too. But how can he, when he is so far outside her grasp that he appears to her as little more than a puff of smoke?
When a mysterious stranger shows up and challenges the very heart of their family, each of them must make choices they have never confronted before. And through it all, the Waverley sisters must search for a way to hold their family together through their troublesome season of change, waiting for that extraordinary event that is... First Frost.
Lose yourself in Sarah Addison Allen's enchanting world and fall for her charmed characters in this captivating story that proves that a happily-ever-after is never the real ending to a story. It's where the real story begins.
And another reader's review...
This was disappointing. While I don't expect much from women's fiction other than some pleasant escapism, this novel had me sighing in exasperation.
"First Frost" is the sixth book by Sarah Addison Allen that I have read, and it is one of her weakest. It is a sequel to "Garden Spells" and continues the story of the Waverley family in Bascom, North Carolina. All of the Waverley women have special gifts: Claire has magical culinary skills, Sydney has magical hair-styling skills, and her daughter, Bay, has magical organizing skills.
I will pause here to say that all of Allen's novels contain some magical realism, with varying degrees of success. Her books also have some romance and Southern charm, which can be delightful. In the past I have enjoyed dipping into her stories when I needed a light read, but "First Frost" was too silly and just didn't gel.   I caught myself dreading picking up this book, which should never happen with a supposedly fun read.
If you would like to try an Allen book, I recommend starting with "The Peach Keeper" or "Lost Lake."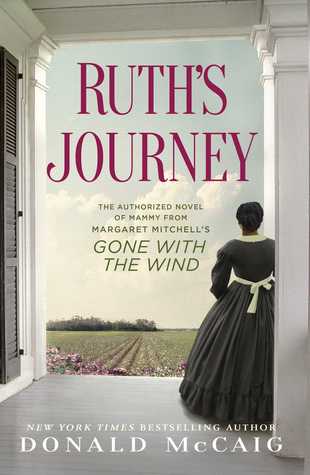 I saw this book and thought it would be a great one to read. I loved GONE WITH THE WIND so I was sure that the story behind Mammy would be good. I have to say that I was disappointed in it. Not because of anything more than the writing style. I found it very difficult to get through. The language was very much like what I expect from that time. Very stilted and formal....which made a sharp contrast with the language of the slaves with mixtures of Creole, French, English and other languages tossed in with no explanation of what some of the words even meant. It was obvious that the slaves were not treated kindly as a rule. Many of them were cruelly handled. It was nothing to take away families, sell the black babies or the mothers and fathers without any hesitation.The book followed Ruth from a very young age throughout her life. She learned to be a mammy and took care of many babies and stayed with the same families for most of her life. Yet, she was often treated unkindly just like the other slaves. The last third of the book finally brought in the O'Haras and Tara and at the end, Scarlett is introduced to Rhett Butler.
If you enjoy books about the Civil War and the slaves and plantation owners, you will enjoy this book. But remember that the wording is very difficult to get through.
Here's the book description...
Authorized by the Margaret Mitchell Estate, here is the first-ever prequel to one of the most beloved and bestselling novels of all time, Gone with the Wind. The critically acclaimed author of Rhett Butler's People magnificently recounts the life of Mammy, one of literature's greatest supporting characters, from her days as a slave girl to the outbreak of the Civil War.
"Her story began with a miracle." On the Caribbean island of Saint Domingue, an island consumed by the flames of revolution, a senseless attack leaves only one survivor—an infant girl. She falls into the hands of two French émigrés, Henri and Solange Fournier, who take the beautiful child they call Ruth to the bustling American city of Savannah.
What follows is the sweeping tale of Ruth's life as shaped by her strong-willed mistress and other larger-than-life personalities she encounters in the South: Jehu Glen, a free black man with whom Ruth falls madly in love; the shabbily genteel family that first hires Ruth as Mammy; Solange's daughter Ellen and the rough Irishman, Gerald O'Hara, whom Ellen chooses to marry; the Butler family of Charleston and their shocking connection to Mammy Ruth; and finally Scarlett O'Hara—the irrepressible Southern belle Mammy raises from birth. As we witness the difficult coming of age felt by three generations of women, gifted storyteller Donald McCaig reveals a portrait of Mammy that is both nuanced and poignant, at once a proud woman and a captive, and a strict disciplinarian who has never experienced freedom herself. But despite the cruelties of a world that has decreed her a slave, Mammy endures, a rock in the river of time. She loves with a ferocity that would astonish those around her if they knew it. And she holds tight even to those who have been lost in the ravages of her days.
Set against the backdrop of the South from the 1820s until the dawn of the Civil War, here is a remarkable story of fortitude, heartbreak, and indomitable will—and a tale that will forever illuminate your reading of Margaret Mitchell's unforgettable classic, Gone with the Wind.
Here's another reader's review...
Who can forget Scarlett O'Hara, Tara, and of course beloved Mammy. Ruth's Journey is a tale of Mammy.
Mammy was born in the Caribbean Islands, was the only survivor of an attack on her household, and made her way to Savannah with the Forniers. As their "child" she was treated well, but was sold to another family.
Mammy Ruth moves from one famous Southern family's ​home to another as we the reader follow her and find out what made Mammy the mammy she was. There are many happy situations, but there are also many sad ones.​ The O'Haras are mentioned throughout the book ​and,​ of course​,​ that is where ​Mammy ends up.
RUTH'S JOURNEY was very well researched, but unfortunately difficult to follow and enjoy until the book was almost over.​
I loved GONE WITH THE WIND, but RUTH'S JOURNEY had something to be desired. It didn't get interesting until way into the book, and most specifically not until Mammy got to Tara with the O'Haras. Visualizing Tara and hearing chararacters' names from GONE WITH THE WIND made the wait worthwhile.
I enjoyed learning about Mammy, but RUTH'S JOURNEY wasn't a favorite read...it was a bit tedious even though the writing was outstanding.
You will love Mammy Ruth and feel sorry for her, and ​you will love learning about ​her strong will​ and her love and loyalty for the people she cared for and ​kept her going on through all her many losses. Mammy Ruth was an interesting person, and a character​ everyone most likely loved and will never forget especially in her dealings with Scarlett.​