Here we are at the end of this month and almost the end of autumn~
I decided to refer to SIMPLE ABUNDANCE by Sarah Ban Breathnach again to see what she had to say about this date.
The essay is entitled MAKE ROOM FOR MYSTERY, AWAKEN TO THE MAGIC….
It's All Hollow's Eve.  Some of us will be accompanying our little goblins on their Trick or Treat rounds tonight to provide love, care and concern for their protection.  Some of us will be greeting those little goblins at our own front doors with candy or other treats.
"Halloween comes down to us from the pre-Christian Celtic festival of Samhaim, held on October 31st.  The last autumn night before the cold and bleakness of winter.  On this night ~ considered the Celtic New Year ~ the Druids believed that the supernatural world drew closer to the physical world, so human beings were more susceptible to the power and influence of the unseen.  Magic spells could be cast more easily, predicting fortunes were more revealing, and dreams held special significance."
 Ms. Breathnach goes on to say .…"Being human, I believe Halloween is the perfect reminder that magic flows through us, mystery infuses every encounter of every day.  We conjure up missing objects…we transform leftovers into a feast, banish fear, heal hurts, make money stretch till the end of the month.  We carry, cradle, nurture and sustain life.  We do all of this and much more.  Most women are not aware of their tremendous power for good.  We've not consciously awakened to the realization that we are descendants of an ancient, sacred lineage..!"
"Isn't Magic what you're performing when you create an authentic lifestyle for yourself and those you love?  Aren't you shaping unseen forces with your creativity and crafts? …..How much more could you accomplish if you were fully aware of your powers?'
"Oh Daughter of the SHE, much power has been gifted to you.  It is the power of Love,  Tonight by candlelight or the light of the moon in your backyard, commit to use your power wisely for the Highest Good of all.  YOU HAVE NO IDEA OF THE COUNTLESS LIVES YOU TOUCH IN THE COURSE OF YOUR LIFETIME.    Go directly to the Source.  Acknowledge your lineage and your authentic gifts with a grateful heart.  "I am sure there is Magic in everything, " Frances Hodgson Burnett observed, "only we have not sense enough to get hold of it and make it do things for us."
So, for me, I am going to acknowledge my gifts.   Tomorrow starts NANO November Novel Writing Month and I am already entered for the challenge.  I have a tiny bit of any idea and I don't know where it is going to lead me, but I am up for the job.  I have a working title of INDIGO MEMORIES.  I can't wait to see where the characters take me this time.
Since my last blog, my friend who recently lost her husband has decided to move in with her daughter who currently lives in California.  She will be leaving soon.  She doesn't want to live alone and in particular doesn't want to go through a winter alone.  I will miss her and hope she enjoys her new home.
I'm still following most of the Nutrisystem eating plan.  I"ve lost 18 lbs to date.  I'm hopeful to lose 20 lbs. by next weekend.   It's really not very hard to follow the plan.  I miss the carbs but have realized when I do eat them that the craving comes back instantly.  I don't  really miss sweets including candy too much.  When I do want something sweet, I usually just take a spoonful and I am satisfied.  Thank goodness.
Since my last blog, I did finally read some books.  I have been thinking that I may get off Facebook for the winter and spend more time reading…..I want to get back into the habit of enjoying books again.
     4 of 5 stars
This novel was based on some true facts. Much of Jackie Kennedy's wardrobe during her time in the White House ( or the MAISON BLANCHE as it was referred) was made by the American seamstresses who copied the latest Paris fashions for the First Lady. When Jackie Kennedy was criticized for using French designers instead of American designers; this was the answer. The owners of Chez Ninon traveled to all the showings in Paris each year and then copied the fashions that they knew the First Lady would wear. They even had a stand-in model who had the same measurements as the First Lady who came to all the fittings where photographs were taken to be approved by Jackie Kennedy or her designer friends.
This story is loosely based on some real facts and some real situations. There is a mystery on where that famous pink suit went after the assassination of the President. The National Archives in Washington D.C. has stored the entire contents of Parkland Hospital's trauma room #1 where the President was pronounced dead. The location is unknown to most people. The pink suit was not stored at that time. It suddenly arrived many years later in the original box from the Chez Ninon with no return address and a single digit postal code in place of the five-digit zip codes adopted on July 1, 1963. Inside the box was the suit, the blouse, the handbag, the shoes and the stockings Jackie had worn on that terrible day, along with an unsigned piece of her mother's letterhead stationary with the words…."Worn Nov. 22, 1963″.There is also a side story of the young woman who sewed so many of the designs and the pink suit by hand and was one of the "back-room girls" who was never given credit for her unique talents.
Here's the book description…
"Beautifully written and engrossing, The Pink Suit gives us an extraordinary alternative reality, transforming JFK and Jackie's romance into the unforgettable love story of a seamstress and a butcher. Kate and Patrick are wonderful creations, and the evocation of the early 1960s is moving and convincing. Kelby spins a compelling tale of one of the most iconic garments ever sewn, and makes it entirely her own."–Claire Kendal, author of The Book of You
On November 22, 1963, the First Lady accompanied her husband to Dallas, Texas dressed in a pink Chanel-style suit that was his favorite. Much of her wardrobe, including the pink suit, came from the New York boutique Chez Ninon where a young seamstress, an Irish immigrant named Kate, worked behind the scenes to meticulously craft the memorable outfits.
While the two never met, Kate knew every tuck and pleat needed to create the illusion of the First Lady's perfection. When the pink suit became emblematic, Kate's already fragile world–divided between the excess and artistry of Chez Ninon and the traditional values of her insular neighborhood–threatened to rip apart.
Moving from the back rooms of Chez Ninon to the steps of Air Force One,The Pink Suit is an enchanting, unforgettable novel about hope and heartbreak, and what became of the American Dream.
Here's a review by another reader…
A very unusual take on the Kennedy assassination and the icon that was Jackie Kennedy. This book very much focuses on the time, money and effort that went into creating and maintaining 'the Wife' as the nation's sweetheart. The story barely involves the Wife at all, choosing instead to focus almost entirely on the design and creation of the iconic pink suit that was worn on that fateful visit to Dallas. The novel is based on the actual Irish seamstress who was integral in crafting the suit in question as well on the fashion house Chez Ninon. The author makes it clear that although Kate and the fashion house were real people the image of them presented her is her own fictionalized take on their lives and attitudes.  However,  for the most part she does an incredible job of breathing life into these characters. As with her previous work, White Truffles in Winter this is a gorgeously sensual novel. The textures, scents and weave of each fabric becomes integral to the plot and characterization here. The subplot surrounding Kate's own love affair with her homely butcher allows Kelby to draw in more of the wonderful descriptions of food that made White Truffles such a delight.
There were some lovely little cameos from Coco Chanel and Martin Luther King so be sure to look out for these along the way.
This novel could easily have descended into a mere fluff piece but some beautiful writing and a well thought out set of convincing characters ensure that there is no risk of this;  all while providing a glimpse into what it takes to build a modern icon.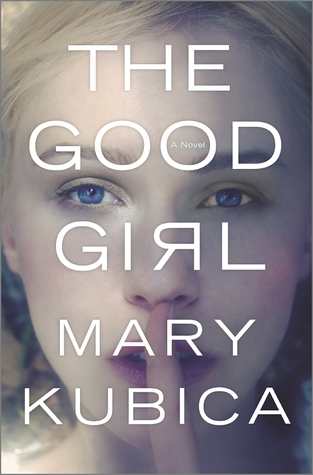 4 of 5 stars
This novel has been compared to GONE GIRL. There some similarities such as the chapters being told by different people in the book. There is a mysterious disappearance of a young girl. The reader soon finds out that the background stories of each character certainly help the reader form an opinion of the main characters. Some of the story is told in "flashbacks" because the young girl has lost her memory. It's a very evenly paced story and the reader will get caught up in the mystery. Why was she taken? What will happen to her? Why do some members of her family seem more irritated then frightened? Who is really behind it all? What will happen in the end?
I read this book in 2 days. It was much more pleasing to me than Gone Girl.
Here's the book description…
"I've been following her for the past few days. I know where she buys her groceries, where she has her dry cleaning done, where she works. I don't know the color of her eyes or what they look like when she's scared. But I will."
Born to a prominent Chicago judge and his stifled socialite wife, Mia Dennett moves against the grain as a young inner-city art teacher. One night, Mia enters a bar to meet her on-again, off-again boyfriend. But when he doesn't show, she unwisely leaves with an enigmatic stranger. With his smooth moves and modest wit, at first Colin Thatcher seems like a safe one-night stand. But following Colin home will turn out to be the worst mistake of Mia's life.
Colin's job was to abduct Mia as part of a wild extortion plot and deliver her to his employers. But the plan takes an unexpected turn when Colin suddenly decides to hide Mia in a secluded cabin in rural Minnesota, evading the police and his deadly superiors. Mia's mother, Eve, and detective Gabe Hoffman will stop at nothing to find them, but no one could have predicted the emotional entanglements that eventually cause this family's world to shatter.
An addictively suspenseful and tautly written thriller, The Good Girl is a compulsive debut that reveals how even in the perfect family, nothing is as it seems….
Here's another reader's review…
This book is not at all what it seems. I was expecting a book like Gone Girl and what I got was a relative of it. If you liked Gone Girl, you will like The Good Girl. It had me racing through the pages until the very end, WHICH BLEW…MY…MIND!
It didn't really hit me what was going on until the last few pages. I had to reread a couple of pages to get it, but it was enjoyable, not annoying where I just didn't get it. I had an idea of what was going on, but I had to be sure. This book really kept me guessing and each time, I was just very wrong.
I really did like the multiple POV's of the novel, however. To some it may be confusing, but to me it was great! Refreshing, even. I haven't read a novel with multiple POV's that I have enjoyed in a long time. The author did a good job with hooking the reader in and having them crave for the end of every chapter, just so they could see what was going on in the next one. The characters were realistic to people I know and I was drawn into their lives and this again, was great.
This is a fantastic book if you're craving a dark mystery. If you read this, you won't be disappointed because I was not and I am now looking forward to more books by Mary Kubica. She can write a hell of a story.
4 of 5 stars
What an interesting book!  There are two main characters who have five days left before their lives change drastically. One of them is a mother who believes she must take her own life due to a terminal illness. She wrestles with leaving her husband and her child, her friends and her parents and makes "deals" with herself about if and when she should do it. There is a man who teaches in the lower income part of Detroit who is married. He and his wife have taken in a "foster" child for a year and the last 5 days they have him are coming quickly. He wants to keep the boy but his wife has a different perspective. As the reader follows the story-line, the reader becomes involved in the decision-making process. What IS the right thing to do? Who is being selfish? What will each person decide to do? How will it all end?This is a first novel by Julie Lawson Tanner and it is a good one.
Here's the book description…
"A beautifully drawn study of what is at risk when you lose control of your own life.  Unique, gripping, and viscerally moving — this impressive debut novel heralds the arrival of an extremely talented writer." —Jodi Picoult, New York Times bestselling author of The Storyteller and Lone WolfDestined to be a book club favorite, a heart-wrenching debut about two people who must decide how much they're willing to sacrifice for love.
Mara Nichols, a successful lawyer, and devoted wife and adoptive mother, has recently been diagnosed with a terminal disease. Scott Coffman, a middle school teacher, has been fostering an eight-year-old boy while the boy's mother serves a jail sentence. Scott and Mara both have five days left until they must say good-bye to the ones they love the most. Through their stories, Julie Lawson Timmer explores the individual limits of human endurance, the power of relationships, and that sometimes loving someone means holding on, and sometimes it means letting go.  
Here's another reader's review…
Five Days Left is an emotional and touching story about life and death and the sacrifices that are made for the sake of one's family and relationships.
There are two plot lines–two different journeys that are totally separate yet connected and intertwined. The story of Mara is sad and heart wrenching as she goes from a healthy and strong woman to a woman who discovers she has a fatal disease and needs to rely on the help of family and friends. Mara has a loving and wonderful husband and a beautiful adopted daughter. Mara does not want to be a burden to her family so she makes a promise to herself that when the symptoms worsen she will end her life on her own terms. This will spare her family and herself the pain, anguish and humiliation of this terrible disease. The story of Scott is also a heartbreaker. Scott is a foster parent to Curtis while the mother is serving a jail sentence and big brother is fulfilling his college dreams. Scott loves his wife who is pregnant with his first child. He also loves Curtis who eventually will be reunited with his mother.
Both Mara and Scott have 5 days left to come to terms with a decision and say their final goodbyes. I was on a journey with these two people knowing perfectly well that I may not like the outcome! I thought this was an amazing debut novel. Dark and thought-provoking yet filled with hope and love. I look forward to reading more novels by this new author.
So that ends this month and this blog.
HAPPY HALLOWEEN…..