Here it is, the 17th of March, 2015 already.   Where does the time go?  The good news is that Spring does appear to be on its way at last!  The snow is gone ( for now) in my area.  The grass is starting to look greener.   There are dead leaves all over so I expect I need to locate my rake and get them out in the next few days.  Yesterday we had temps in the low 70's ~ it was so nice to be outside without a coat.  I took advantage of the good weather by going to the library, shopping at Penny's, getting my hair cut and going to the grocery store.  A busy day for sure.
On my shopping trip, I only planned on buying a pair of good black dress slacks.  The last pair I got from Penny's have lasted a very long time.  I've worn them for many years...some years they fit better than others!  Now that I have lost 20 lbs ~ they are just too baggy.  So I was thrilled to find another pair, IN A SMALLER SIZE that fit AND were on sale too!   I also found 2 heavy turtlenecks shirts (Liz Claiborne) on sale for $10 each and another shirt on sale for $8.    The total was $70 and I saved over $50!   That is the type of shopping I really like.
    When I saw this photo and caption, I had to laugh.  My cats both do this when I am in the bathroom.....
I've had quite the time of it trying to get my latest book online.  When I was writing, you may recall that I lost the entire manuscript after loading it to Create space.  I rewrote it and continued to have so many problems.   Even when I finally got it on Create Space and they approved it AND I edited it online and approved it for sale, the format got wonky.  A couple of my friends who bought it let me know the chapter numbers had disappeared, the page numbers had disappeared and the font had gotten small.   I immediately took it off of Amazon.com, recorrected everything and sent it in.  Then Create space said I had to change the sale price.   I did that and once it was approved again, I re-edited it again.   I found a few small errors but knowing that if I try to correct it and resubmit, something else is going to be wrong...I just approved it.  It is for sale again on Amazon.com along with my previous 3 books.
This is the front and back cover.
I hope you will check it out and buy it.
And speaking of reading books.
Here are the books I've read recently...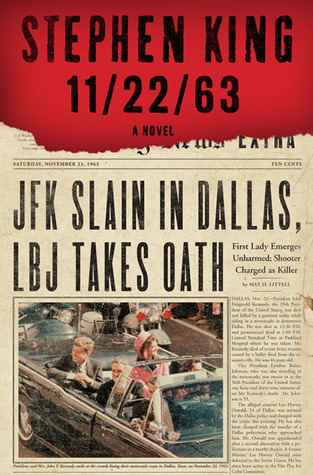 I know this novel has been out for a long time but I hadn't gotten around to reading it until now.
I used to read Stephen King years ago. Then I didn't like the creepy monsters and evil spirits so I stopped. I had heard about this book about going back in time and trying to change the outcome of Jack Kennedy's assassination. I finally checked it out of the library and I loved it! So good, no creepy monsters but plenty of plot twists and turns. I could hardly put it down. I really loved the main characters and so wanted it to have a happy ending. It didn't quite turn out as I expected but it was really, really good.
If you haven't read it, give it a try. I am sure you will enjoy the story very much.
Here's the book jacket description...
Life can turn on a dime—or stumble into the extraordinary, as it does for Jake Epping, a high school English teacher in Lisbon Falls, Maine. While grading essays by his GED students, Jake reads a gruesome, enthralling piece penned by janitor Harry Dunning: fifty years ago, Harry somehow survived his father's sledgehammer slaughter of his entire family. Jake is blown away...but an even more bizarre secret comes to light when Jake's friend Al, owner of the local diner, enlists Jake to take over the mission that has become his obsession—to prevent the Kennedy assassination. How? By stepping through a portal in the diner's storeroom, and into the era of Ike and Elvis, of big American cars, sock hops, and cigarette smoke... Finding himself in warmhearted Jodie, Texas, Jake begins a new life. But all turns in the road lead to a troubled loner named Lee Harvey Oswald. The course of history is about to be rewritten...and become heart-stoppingly suspenseful.
And another reader's review...
What did I think? I think I lost a weekend and there is no way to go back in time to get it because I don't know where the rabbit hole is! But would I? Would I change having read this book? No way!
I was a huge Stephen King fan in high school and gobbled up all of his books. Until ... they went from cool weird to over-the-top weird. Suddenly coke machines were your worst enemy and there seemed to be a less emotional element mixed with the macabre (think Pet Cemetery) and it was just a bunch of words filling up pages talking about near nonsense. I stopped following King. Plain and simple. But over the years I have meandered up his path from time to time ... and found The Dome was along those lines of his original work. But this? This was FANTABULOUS! Right from the get-go the premise draws you in. Who wouldn't want to know what the world would be like if John F. Kennedy hadn't been shot? But this is Stephen King, and he's not taking you to bed for good without a boatload of foreplay. I was snagged from page one, and I too was greatly concerned about what happens to the future if you mess up the past!
I guess it couldn't end any other way ... and I was a little confused as to the events that supposedly would take place if Kennedy hadn't died ... but I don't want to say anymore. You must read this book and you must understand you will have no other desire to do anything else until it is finished!!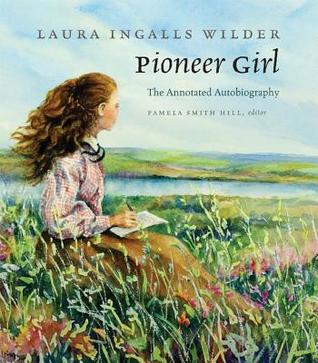 I never watched Little House On The Prairie on a regular basis. I did read some of the books that Laura Ingalls Wilder wrote. This huge and heavily detailed and researched autobiography certainly filled in a lot of the blanks. I enjoyed reading her words and seeing some side notes on what had happened. She wrote with such great description that the reader could almost believe they were there too. I loved the old photos.
It made me realize, once again, how hardy and determined those pioneers were. They walked for miles. They constructed homes out of nothing, scrambled for food and the basic needs and often went without any of those things.  This book required taking the time to sit down and get lost in the history of our country.
Here's the book jacket description...
Pioneer Girl follows the Ingalls family's journey through Kansas, Missouri, Wisconsin, Minnesota, Iowa, back to Minnesota, and on to Dakota Territory with sixteen years of travels, unforgettable experiences, and the everyday people who became immortal through Wilder's fiction. Using additional manuscripts, letters, photographs, newspapers, and other sources, award-winning Wilder biographer Pamela Smith Hill adds valuable context and leads readers through Wilder's growth as a writer. Do you think you know Laura? Pioneer Girl: The Annotated Autobiography will re-introduce you to the woman who defined the pioneer experience for millions. 
And another reader's review...
The books of Laura Ingalls Wilder were my best friends growing up. I read & re-read them constantly most of my life. I received my boxed set when I was about 8 or 9 as a reward for helping my brother who had been laid up with a broken leg. To this day, when I open one of them, I will inhale deeply for its scent which I find only in these books.
A couple years later while vacationing in Pelican Rapids, at a small bookstore on main street, I saw the book, Laura, by Donald Zochert, and thought I had died & gone to heaven. The really-real story of Laura with photographs. I read & re-read it many times as well.
Now to the book in hand, once I was past the introduction and background, deeply ensconced in Laura's words and story, I felt like I was enjoying a beautiful afternoon with an old friend, I had not seen in years, and may not ever see again. Laura is responsible for a great deal of who I am. It is satisfying to spend one more day with her to rediscover those lost treasures.
This is a sweet story about 3 sisters who grew up with a grandmother who had a "knowing". One of the three women also had the same ability. She would get the idea of some type of meal or food and be compelled to make it, not knowing the reason until later on.This is a fast-paced story with a love interest in it to make it extra special. I'm sure if you have a few hours on a lazy afternoon, you will enjoy it too. And the titles of the chapters will make your mouth water. Happily the recipes are in the back of the book.
Here's the book jacket description...
Portia Cuthcart never intended to leave Texas. Her dream was to run the Glass Kitchen restaurant her grandmother built decades ago. But after a string of betrayals and the loss of her legacy, Portia is determined to start a new life with her sisters in Manhattan... and never cook again.
But when she moves into a dilapidated brownstone on the Upper West Side, she meets twelve-year-old Ariel and her widowed father Gabriel, a man with his hands full trying to raise two daughters on his own. Soon, a promise made to her sisters forces Portia back into a world of magical food and swirling emotions, where she must confront everything she has been running from. What seems so simple on the surface is anything but when long-held secrets are revealed, rivalries exposed, and the promise of new love stirs to life like chocolate mixing with cream.
The Glass Kitchen is a delicious novel, a tempestuous story of a woman washed up on the shores of Manhattan who discovers that a kitchen—like an island—can be a refuge, if only she has the courage to give in to the pull of love, the power of forgiveness, and accept the complications of what it means to be family.
And another reader's review...
I really liked this story.  Portia, like her grandmother, has the 'knowing'. Out of the blue, she will get the urge to bake something, or make a specific meal and its always because someone needs it for whatever reason. She ignored it for a few years to be the 'perfect politicians wife' but that didn't  last. She moves to NY to live in 1/3 of a townhouse that her aunt left her, only to find that her sisters sold their thirds and a single dad of 2 girls bought it. The story develops quickly and naturally after that and there are a few surprises along the way. I thought it was a great story and would make a great book club book. I also really liked the recipes that were included at the end. I just may have to try a few.
*****
So, on with the month of March.   I'm hoping by the time April arrives, Spring will have settled in for good.