I was looking at my book by Sarah Ban Breathnach (SIMPLE ABUNDANCE) today to get some inspiration for a blog.   It was interesting to read that her essay for today was Clearing Out What Isn't Useful or Beautiful.
According to her ..."Our authentic decorative deliverance arrives when we begin to appreciate and put to use the rule of ridding ourselves of anything we do not believe to be beautiful or useful--as we restore order to our homes and simplify our lives."
"Beginning this week, with a pad and pencil, browse through the rooms of your home meditatively.  Let the Divine spirits of simplicity, order, harmony and beauty accompany you.  Really LOOK at your surroundings--your furniture and decorative accessories.  Give thanks for your home exactly as it exists today.  NOW...begin the inquiry.  Ask each possession, Are YOU beautiful?  Useful?  Is it time for you to move on?  You will undoubtedly come to an object that is neither beautiful or useful but has sentimental qualities.  You can create a new category on your list but have restraint.  Does it really tug at your heart?  Would you mourn if it disappeared?  Be truthful.  Listen to your authentic self.  Write it all down and think about it before you take action."
The next step is to make a commitment in writing, on  your calendar to go through one room a month.  On that day, plan to spend a few hours.  Be sure you have plenty of boxes available.  Now, start to sort: if it's not beautiful, useful or sentimental ~~ it goes.  One pile for items to be given away to charities.  One pile for perfectly good objects that no longer make your heart beat faster.  These might be recycled for others who would enjoy them."
"There's an ancient metaphysical law that says if we desire more abundance in our lives, we must create a vacuum to allow ourselves to receive the good we seek.  How can more good come into our lives if there is no room for it?  The way we create the vacuum is by giving away what we no longer need or desire but what can still serve others."
We all change as we grow.  This includes our personal style.  If you no longer love Fiesta dishes and want to collect another china or if the fancy china doesn't match your casual style, give them away.  Deciding to simplify our lives and bring order to our homes by sending on the objects we no longer love to a new happier life with people who will genuinely appreciate them is the way to open ourselves up to receiving an abundance that will more perfectly suit us."
So, I guess I need to heed my own words and do this.  I have been saying that it's time to go through the house again.  I have many things that are stuffed into closets and storage areas that I haven't used or even wanted since my husband passed away.  I think it is time to move it on to someone else who may need it.   Since I've lost about 23-25 lbs, I have some clothes that are too big.  I've given some away but I need to clean out the closet once again.  No need for all those blankets and dishes and coffee mugs that I have stocked away.  I have bookcases full of books that I need to read and then donate.  And stacks of magazines that I need to get read too.
THIS IS NOT MY HOME......
AND NEITHER IS THIS.....
AND THEN YOU CAN DO THIS.....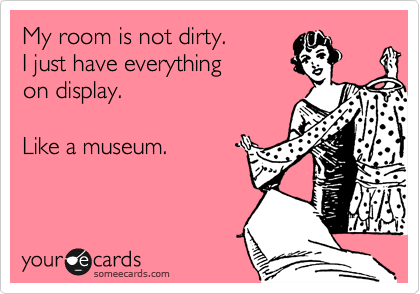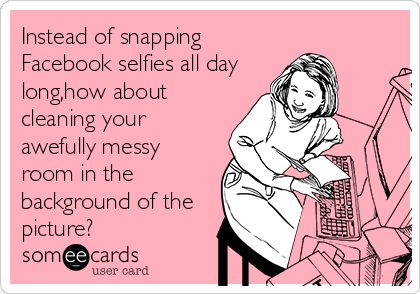 Well, now I am exhausted!   I need to go read a book.  I recently ordered a book from the library entitled THE LIFE CHANGING MAGIC OF TIDYING UP by Marie Kondo.  I'll let you know if it has some good ideas.
I did just finish     
This is an autobiography that Brooke Shields wrote about herself and her relationship with her mother. Most of us probably have heard how Teri Shields drank to excess and was Brooke's manager for many years. They had a loving yet difficult relationship. Teri always wanted to be in control and yet she would allow Brooke to do "her own thing" as well. Brooke was always searching for the perfect mother-daughter relationship and yet she didn't ever want to leave her mother.
Brooke also wrote about her relationship with Dean Cain and Andre Agassi. She was married to Andre for about 5 years. They were dear friends but didn't seem to do well as a married couple. She has been married now to the father of her two daughters for several years. She even mentioned that Tom Cruise was a friend over the years even though he had made remarks about Brooke taking antidepressants when she had her first daughter. She had quite a difficult time conceiving her first child but was finally successful. Brooke had quite an interesting life. Most of it wasn't easy but she still holds those memories dear.
Here's the book description....
Actress and author of the New York Times bestseller Down Came the Rain, Brooke Shields, explores her relationship with her unforgettable mother, Teri, in her new memoir.
Brooke Shields never had what anyone would consider an ordinary life. She was raised by her Newark-tough single mom, Teri, a woman who loved the world of show business and was often a media sensation all by herself. Brooke's iconic modeling career began by chance when she was only eleven months old, and Teri's skills as both Brooke's mother and manager were formidable. But in private she was troubled and drinking heavily.
As Brooke became an adult the pair made choices and sacrifices that would affect their relationship forever. And when Brooke's own daughters were born she found that her experience as a mother was shaped in every way by the woman who raised her. But despite the many ups and downs, Brooke was by Teri's side when she died in 2012, a loving daughter until the end.
Only Brooke knows the truth of the remarkable, difficult, complicated woman who was her mother. And now, in an honest, open memoir about her life growing up, Brooke will reveal stories and feelings that are relateable to anyone who has been a mother or daughter.
And another reader's review...
Being a woman of a "certain age", I grew up with Brooke Shields and always loved her. I knew of her alcoholic "momager" through all of the gossip mags of the time. Brooke recounts so much of her childhood and how the co-dependency shaped her career and life. It's hard not to feel sorry for the little girl who felt that she had to take care of her mother. However, Brooke does a good job of painting both sides, the pain and the pride that her mom felt as she watched Brooke succeed.